January 18, 2023
By Barak Vinkler, Product Manager at Zoomd
ROAS, or Return on Ad Spend, is a critical metric for any marketing campaign. It measures the amount of money a company earns for every dollar spent on advertising, helping to identify which strategies are the most cost-effective. In the world of mobile app user acquisition, achieving a high ROAS is essential for driving growth and maximizing the return on investment in marketing efforts.
One way to boost ROAS in user acquisition campaigns is by using artificial intelligence (AI). AI can help optimize campaign performance by automatically adjusting bids and targeting based on user behavior and other factors. This allows marketers to maximize their ROAS while minimizing wasted ad spend. 
As a product User Acquisition expert, I will share my insights on the advantages of incorporating AI into user acquisition strategies and guide how to effectively set up and optimize AI to achieve a high return on ad spend across various channels. 
The Benefits and Challenges of Advertising in Multiple Channels
Advertising in multiple channels can be a powerful way to reach a wider audience and drive growth for a business. By expanding beyond a single channel, marketers can access new audiences and increase their chances of finding and converting potential customers. 
However, advertising in multiple channels also comes with its own set of challenges. Each channel has its own unique features, targeting options, and ad formats, which can make it difficult to manage campaigns across multiple platforms. Additionally, different channels may have different audiences, which can require customizing campaigns and targeting to fit each platform. 
Despite these challenges, the benefits of advertising in multiple channels can be well worth the effort. By leveraging the unique features and audiences of each platform, marketers can reach a wider range of potential customers and drive growth for their business. By using AI to optimize campaigns across multiple channels, marketers can streamline the process and make it easier to manage campaigns and achieve great ROAS.  
Understanding AI for User Acquisition
AI for marketing refers to the use of artificial intelligence and machine learning algorithms to analyze data and automate marketing activities. It can be used to identify the most effective strategies for reaching target audiences, improve KPI, and optimize campaigns for better results. 
AI can be used to automate bidding and targeting decisions based on user behavior and other factors such as event, impressions, or location. This can help marketers tailor campaigns to specific users, resulting in higher ROI from each ad spend. 
Applying AI for User Acquisition
Setting up AI for mobile user acquisition requires collecting user data, training a machine learning model, and implementing the model into your existing campaigns. This can be a complex and expensive process, but many tools are available to help marketers get started, including Skipper by Zoomd.  
AI for user acquisition requires testing new media strategies, analyzing user data, and adjusting bids and budgets regularly. In order to maximize ROAS, advertisers must pay attention to trends in their field and adjust their strategies accordingly. 
Maximizing ROAS with Skipper: A Tool for User Acquisition Across Multiple Channels
One tool that can help marketers achieve great ROAS in user acquisition campaigns across multiple channels is Skipper, created by Zoomd. Skipper is a powerful platform that helps marketers optimize their campaigns by automating decisions such as bid and budget, campaign status updates, and more. 
One of the key features of Skipper "Automation Center" is its use of the "IFTTT" (If This Then That) methodology, which makes it easy and fast to create and edit campaigns. With IFTTT, marketers can set up simple "rules" that dictate how their campaigns should behave based on certain triggers.  
For example, a marketer might set up a rule that says "If the ROAS of a campaign falls below a certain threshold, then pause the campaign." This allows marketers to automate their campaign management and make real-time adjustments based on performance for multiple campaigns and channels.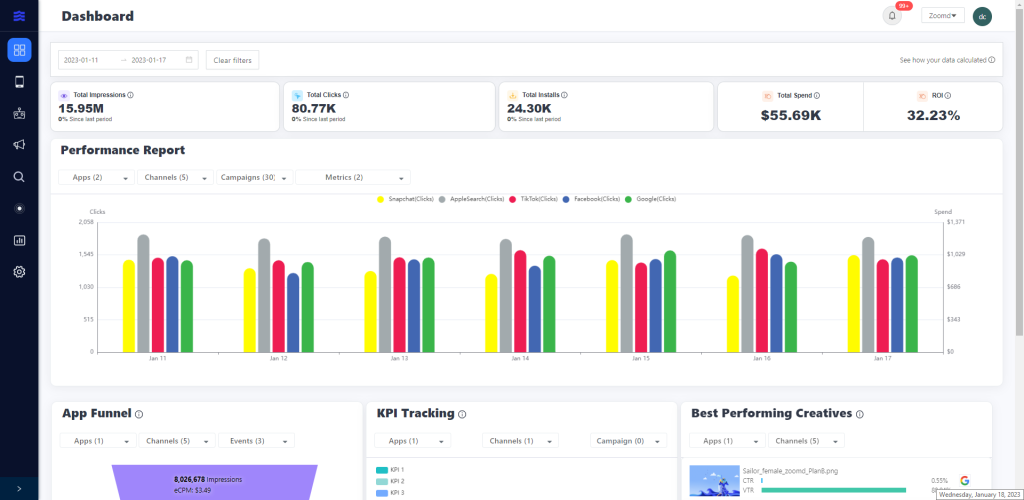 Skipper also offers a range of features that make it easy to track campaign performance, such as real-time reporting, budget allocation, graphs, and dashboards. This allows marketers to stay on top of their campaigns and make informed decisions about how to optimize them for the best results. 
Overall, Skipper is a tool for app owners, campaign managers and overall marketers looking to achieve great ROAS and stay on top their data in their UA. By automating campaign management and making it easy to track performance, Skipper helps marketers focus on driving growth and maximizing the return on their marketing efforts. The use of the IFTTT methodology makes it easy and fast to create and edit campaigns, helping marketers to quickly optimize their campaigns and achieve great ROAS. 
In conclusion, achieving a high ROAS is essential for driving growth in mobile user acquisition campaigns and AI can help in optimizing the performance. Advertising on multiple channels can be beneficial, but it can be challenging to manage campaigns across different platforms. Tools like Skipper can help streamline this process by automating decisions and optimizing performance across multiple channels. With Skipper's automation center, advertisers can easily maximize ROAS and drive growth for their business.